Ukraine's complicated path to NATO membership
Comments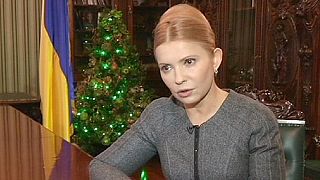 Ukrainian public opinion on NATO membership remained low, according to numerous independent polls conducted between 2005 and 2013. Just months before the start of the revolution in Ukraine and Russia's annexation of Crimea just over 50% of Ukrainians were against joining NATO and only 40% supported the idea of Alliance membership.
However, opinion changed once Moscow had taken Crimea and hostilities flared in eastern Ukraine with over 50% of Ukrainians in favour of NATO membership while just 43% said they were against it.
"When Ukraine-Russia relations turned more and more complicated and the people, who thought Russia was a friendly country, with a friendly policy, changed their minds, the situation changed," explained Valeriy Khmelko, President of Kyiv International Institute of Sociology.
NATO-Ukraine relations formally began in 1991, when Kyiv joined the North Atlantic Cooperation Council. After the"Orange Revolution" in Ukraine, newly elected President Viktor Yushchenko was invited to the NATO summit several times.
The Ukrainian government (with Yulia Tymoshenko as prime-minister) had hoped that Ukraine would join the NATO Membership Action Plan at the Bucharest Summit in 2008 but it failed to come fruition.
"The official version from the countries that didn't back Ukraine in the Membership Action Plan was that the Ukrainian people didn't support it. And that was the case because at that time only 17-20% of Ukrainians supported the idea of joining NATO," said former Ukrainian Prime Minister, Yulia Tymoshenko.
In 2010, Viktor Yanukovych became president and introduced a law of neutrality, which doesn't permit Kyiv to seek membership of any military-political alliances.
Oleksandr Sushko, Research director of the Institute for
Euro-Atlantic Cooperation explains:
"There was a hope that non-alignment would serve as "payment" to Russia, it would appease Moscow, and Russia would recognise Ukraine as a state, including its borders and territorial integrity. However, we have seen that that wasn't the case and naive of Ukraine to believe so,"
Ukraine's decision to change its status and no longer declare itself neutral places the country in the same position it held in 2010.
In order to help Kyiv become a member of NATO it needs to contribute to European security and defense.