Russia calls Ukraine's bid to join NATO "counterproductive"
Comments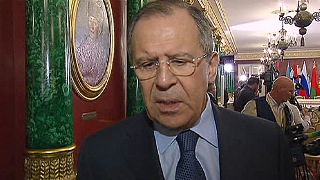 Russia has been reacting to the news that Ukraine has dropped its international neutrality, saying it gives false hope that the political crisis in the country will be resolved.
Moscow called for Kyiv to "put an end to the confrontation" that stoked tensions between the two sides.
Russian Foreign Minister Sergei Lavrov said: "I think that this draft law which abandons the non-aligned status and aspires to join NATO is counterproductive. Ukrainian politicians openly say it will solve the deep crisis of the Ukrainian state but this is just an illusion."
In a Facebook post, the Russian Prime Minister Dmitry Medvedev described the change of law as "essentially an application for NATO membership" which "turns Ukraine into a potential military opponent of Russia."
It is not clear however how easy it would be for Ukraine to join NATO.
Germany has previously said that membership is not on the table for Ukraine as it would inflame tensions with Russia, and Kyiv had not done enough to deal with corruption.
The US is backing Ukraine joining NATO.