Peshmerga fighters move on Sinjar town in Iraq as fierce battle with ISIL rages
Comments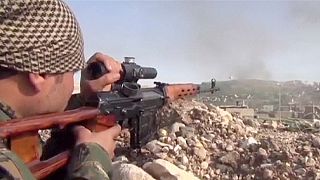 The United States continue to launch air strikes against ISIL positions in Iraq as Kurdish Peshmerga forces move closer to Sinjar town and the ISIL stronghold of Mosul.
As the fighting rages the European Union's foreign policy chief Federica Mogherini paid a visit to Erbil, the capital of the Kurdistan Region in Iraq.
She emphasized the importance of unity: "Daesh is threat number one and has to be faced together, putting aside the fights and divisions, firstly inside this country and realise there is a major fight to face," she said.
On the ground the Peshmerga are engaged in a fierce battle with ISIL to take control of Sinjar town, which could in time isolate Mosul where ISIL fighters are congregated.
Despite the ferocity of the exchanges Peshmerga forces managed to deliver much needed aid to Yazidi refugees stranded on Mount Sinjar.