Syria: Tehran renews support for Assad regime
Comments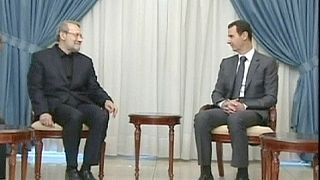 Iranian Parliament Speaker Ali Larijani renewed Tehran's support for the Syrian regime in a meeting with President Bashar al Assad on Sunday.
"If Israeli military aggression occurs, Syria will respond properly...to defend its sovereignty, unity and to protect its people and its safety and security," Syrian Parliament Speaker Mohamed Jihad al-Laham.
Topping the agenda were fears of renewed Israeli military aggression against Syria, which is fighting a three year civil war against rebel groups and ISIL militants.
Earlier this month, Syria accused Israel of bombing areas near Damascus International Airport and demanded that the UN Security Council impose sanctions on the Jewish-majority state.
Israel has struck Syria several times, mostly destroying weaponry that Israeli officials said were destined for their long-time foe Hezbollah in Lebanon.
Meeting with his Syrian counterpart, Larijani reaffirmed Tehran's backing for what he described as Syria's anti-terror fight.
Assad told him that he was open to truces with local rebel groups to end the violence.
Larijani will also visit Iraq and Lebanon on his four day regional trip.