Supporters of new Tunisian president celebrate his victory
Comments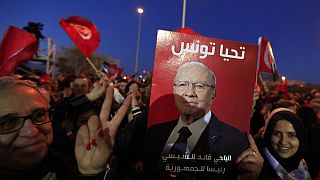 The American and Egyptian presidents have congratulated the new Tunisian president Beji Caid Essebsi
on his victory.
The European Union said it was "determined" to work with the new Tunisian authorities to deliver democratic and economic progress.
Supporters of the new president took to the streets of the capital Tunis to celebrate on Monday evening.
"As a young Tunisian who took part in the revolution – we succeeded in achieving part of our struggle. This is a social model. We have won the battle in terms of a social project , but we still need to rebuild Tunisia," said one woman.
Another man declared: "He is the father of everybody, may God bless him"
Others hoped the new president would be able to produce results.One woman told reporters: "He has to stick to his commitments, and he has to help us in our living situation."
The Tunisian press says fighting poverty and armed jihad in the country will be the two first big challenges for the new leadership.