President Essebsi, a lifetime in Tunisia politics
Comments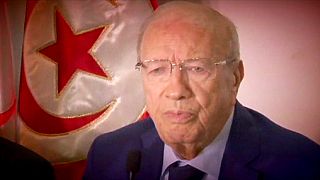 The new president of Tunisia , 88-year-old Beji Caid Essebsi is known by Tunisians as the "old wolf." This is not just because of his advanced age but because of a political career that began in 1941. A former disciple of the first post-independence president of Tunisia, Habib Bourguiba, he learned the basics of military activism during Tunisia's liberation from France.
Essebsi's political career began in earnest after Tunisia's independence in 1956. As well as being one of President Habib Bourguiba's advisors, he served as Interior Minister, Defence Minister and Foreign Affairs Minister.
After the November 1987 Ben Ali coup against Bourguiba, Essebsi switched allegiances and joined the new leader's Democratic Constitutional Rally (RCD).
In 1990 and 1991 he served as the President of the Chamber of Deputies under Ben Ali, a period that today Essebsi would rather forget.
In 1991 he decided to retire from his political career but returned two decades later in 2011. In the same year Essebsi became the new prime minister of the transitional government following the revolution and was in charge of drafting Tunisia's new constitution.
Also in 2011 he founded his own secular party, Nidaa Tunes, with the aim of creating an opposition force to the Islamist Ennahda party.
However, later that same year, the Ennahda Party won the elections with a majority.
Essebsi's revenge came in October 2014 when Nidaa Tunes beat the ruling Islamist Ennahda Party.
As president, Essebsi faces many challenges ahead, not least his age, but also that many Tunisians still remember his role in the Ben Ali regime.