Essebsi wins Tunisia presidency
Comments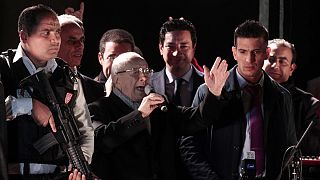 Eighty-eight-year-old veteran politician Beji Caid Essebsi has won Tunisia's first free presidential election, according to results released on Monday.
I dedicate my victory to the martyrs of the Tunisian revolution.
The head of the country's electoral commission said Essebsi took over 55% of the vote, while his opponent, caretaker president and former rights activist Moncef Marzouki, trailed with 44%.
Essebsi, who served under ousted president Zine El-Abidine Ben Ali, dedicated his victory to the "martyrs" of the revolution and said he would represent all Tunisians.
But his critics say his victory is a return of the old guard. and rioting broke out in the city of Hamma, as angry youths demonstrated in the street, shouting "No to the old regime."