ISIL fighters 'flee' Iraq's Sinjar as Peshmerga troops 'make gains'
Comments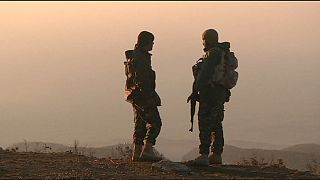 Kurdish Peshmerga troops have been pushing their way into the town of Sinjar on Sunday backed by US-led coalition forces.
The battles taking place against Islamic State militants have resulted in at least 15 wounded Peshmerga fighters.
The US military said 13 air strikes in Iraq and three in Syria had been launched using fighters, bombers and other aircraft.
A number of buildings , tactical units and vehicles used by the jihadist group Islamic State were destroyed.
Meanwhile, an Iraqi official said Iraqi forces have been battling to retake Tal Afar military airport.
"Now the fighting is in Sinjar and we have freed most of the city. Last night they (Islamic State militants) tried to attack two or three times, but failed. They left and fled to Jordan and Syria," said Peshmerga fighter, Kamran Kochar.
The president of the self-ruled Kurdish region in northern Iraq, Masoud Barzani, visited troops and toured their positions on Mount Sinjar on Sunday, just one day after its liberation by Peshmerga fighters following a three-month siege by Islamic State militants.
Hundreds of people from Iraq's Yazidi religious minority had been trapped on the mountain since August.
Barzani vowed to crush the jihadist group Islamic State and said he was pleased with the efforts of Peshmerga forces.