Five Colombian soldiers killed in attack on eve of FARC truce
Comments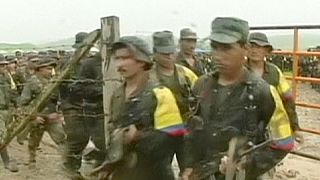 At least five soldiers have been killed and several injured after clashes between Colombian government forces and guerillas thought to be members of Marxist rebel group FARC.
It happened in the rural area of Santander de Quilichao.
The attack – which a government spokesperson described as an ambush – comes one day before FARC is due to start a unilateral indefinite ceasefire.
The rebels announced the truce earlier this week during peace talks in Cuba saying it should become an armistice and said it would only end if they were attacked.
President Santos has come under pressure to match the rebels' offer but has so far refused.
"These men from the other side are no angels. We are going to thoroughly analyse the progress and implementation of this ceasefire, because I think it is a good first step," the Colombian president said.
Santos argues the rebels would use a bilateral truce to rearm and regroup if he suspended military action.