Putin tries to reassure over rouble worries, but also slams the West
Comments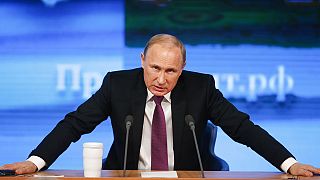 He attempted to reassure the Russian people about the state of their economy under his leadership.
But a defiant President Vladimir Putin also took numerous swipes at the West, especially the US, accusing it of behaving like an empire.
The speech was dubbed Putin's "end- of-year annual report".
"Are we the ones moving troops towards the US or other states' borders?" he asked the audience of journalists.
"Who moves NATO bases and military infrastructure towards us? Not us. Does anyone listen to us? Is anyone having some kind of a dialogue with us on that? No, none.
"We always get the same answer: 'this is none of your business, every country has the right to choose its ways of ensuring its security'. OK, but in that case, we will do the same," he said.
President Putin did not offer any concrete solutions to the slide of the rouble, which he blamed on external factors.
He also repeated the claim the Ukraine crisis was caused by the West.
Russian police arrested at least 20 people who gathered for a demonstration outside the venue where President Putin spoke.
Authorities say permission had not been granted for the protest.