Divided opinion in Russia after Putin's end-of-year address
Comments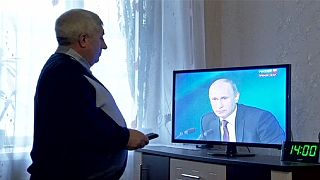 In Ukraine's eastern Donetsk region, pro-Russian separatists watched President Putin's end-of-year speech on a TV set in a canteen.
One soldier said: "We hope to get some help from the Russian side, we really want them to help us. We try to hold on, but we can't survive on our own."
In Moscow, pensioner Vasily Shapurma, a staunch supporter of Putin gave his thoughts on the speech.
"The crisis will not affect me as pensioner. I think that the country will soon get back on its feet and everything will be good. I'm sure of this," he said.
Elsewhere in Moscow, opinion was divided on the president's claims that the economic difficulties could last for the next two years but could also improve more quickly.
Resident Tatiana said: "There is a feeling that we went back to the '90s, but everything will be good in ten years time."
Another local, Andrei argued for a younger leadership, saying: "the authorities can't manage, and the new generation needs a leader, and then everything will be okay again. The authorities are old people now, they can't think in a modern way, they are behind the times."