Peshmerga assault frees Yazidis trapped for months on Mount Sinjar
Comments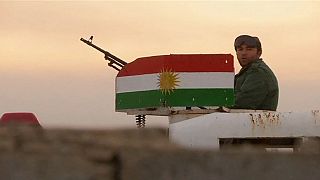 In Iraq's Kurdistan region a two-day military assault by Peshmerga forces has helped free hundreds of minority Yazidi people who have been trapped on Mount Sinjar for months.
They've been on the mountain since ISIL militants stormed Sinjar in the north of Iraq in August.
The Kurds have yet to take back the actual town of Sinjar from ISIL. Evacuating the Yazidis is the first step.
"This operation will of course continue to clear all the areas that are still under the control of ISIL but the details of that, or the timing of that, I am not at liberty to discuss at the moment," explained Masrur Barzani, Chancellor of the Kurdistan Region Security Council.
"But hopefully, our hope is, that all those people (the Yazidis on Sinjar Mountain) will eventually be able to go back to their own homes and villages and towns. But those that are in need of evacuation now, a corridor has been opened to evacuate those people," Barzani added.
The assault was backed by US airstrikes. The head of Iraqi Kurdistan's security council said that one hundred ISIL fighters had been killed.
US central command said airstrikes in Iraq also targeted Mosul and Ramadi.