Pakistan begins painful process of burying children massacred by the Taliban
Comments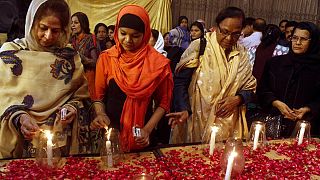 A country in shock has begun to bury the victims of one of its worst ever militant attacks.
Three days of national mourning are now being observed in Pakistan, still grappling to understand how 132 children could have been massacred by the Pakistani Taliban.
Several teachers also died in the storming of a military-run high school in Peshawar. Nine militants were killed by soldiers.
In apparent response to the tragedy, Pakistan's prime minister announced the lifting of a moratorium on the death penalty.
Nawaz Sharif said: "We will continue this war as long as there is a single terrorist left on our soil."
Among those condemning the attack was the Afghanistan Taliban.
This as Pakistani army and intelligence officials travel to Afghanistan to call for help in cracking down on militants.