Malala joins condemnation of Taliban attack
Comments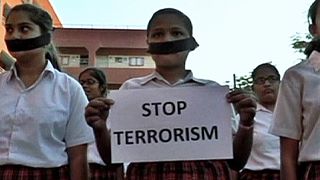 The words of Nobel Peace Prize winner Malala which mixed with children, parents and politicians as the world reacted in shock to the Taliban attack.
"My family and I are heartbroken after hearing the news that more than 100 innocent children and teachers have lost their lives in this recent attack on a school in Peshawar and we stand with all those families and all those children who are injured right now and who are suffering through this big trauma.
'And now it is the time that we unite and I call upon the international community, leaders in Pakistan, all political parties and everyone that we should stand up together and fight against terrorism and we should make sure that every child gets safe and quality education," she said.
The father of one student summed up how all parents in Pakistan are feeling.
"Parents are very scared to send their children to school whether it is Karachi, Lahore or anywhere else. There is a fear in their hearts that something might happen,"
And with that fear, grief. Empty streets, closed shops as Pakistan began a period of national mourning. Eyewitnesses talked of an eerie silence while one overriding question about the massacre remains.
"What did we do wrong? We are not from the army or the Taliban, but they killed small kids. Why did these terrorists attack us? I went to my school and it is closed now," asked Adnan Gul a student from Peshawar.
There have been calls for prompt action from across Pakistan. In Karachi lawyers and students rallied to show their solidarity with the victims of the attack. They demanded harsher sentences for terror offences including capital punishment.
The national pain crossed the border into India where school pupils protested against the Taliban.
"We are with the family members of the victims who lost their lives in bloodshed. I cannot express in words how to share their grief," said Ramakant Desa, a student from Gujarat.
Prayers, grief and support. And for the future a hope that the killings will mark a turning point.
Has the Taliban crossed a line which will now lead to a united Pakistan no longer tolerating their presence after the killings which have sent such a seismic shock across the country?