Militants attack bank in southern Afghanistan
Comments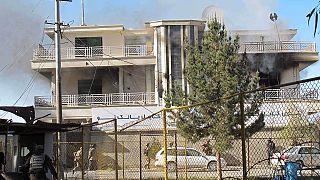 At least seven people have died and dozens others were wounded when suspected Taliban militants attacked a bank in the south of Afghanistan.
According to Afghan officials four Taliban fighters stormed a branch of the Kabul bank, one detonated a suicide bomb whilst the others fought with security forces.
The firefight ended in the deaths of all four Taliban members.
One of the guards explains his version of the events.
"I was at the second gate of the Kabul bank when suddenly suicide attackers riding motorbikes entered the first gate. I tried to pick up my gun but they opened fire and entered the building. As a result of the gun fire my friend, who was a guard, was killed and I escaped from the area."
The Taliban in southern Afghanistan claimed responsibility for the attack.
It comes less than two weeks before the scheduled withdrawal of Nato troops, raising fears of increased Taliban violence.