Cologne shows its more tolerant side and stages an anti-racism rally
Comments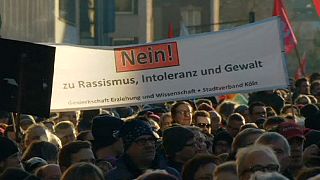 Thousands of protesters have taken part in an anti-racism rally in the German city of Cologne.
Organised by mainly artists and musicians, an estimated around 15,000 took part in what was designed to be a good natured event to counter the growing number of far-right demonstrations.
In October in the same place dozens of policemen were injured during a rally against radical Islam which degenerated into a riot.
Since then Germany has seen a growth in a movement called PEGIDA – an anti-immigration movement which stands for "Patriotic Europeans against the Islamisation of the West".
Sunday's event organisers said was a bid to show Cologne as a tolerant city.