Ireland: Thousands protest in Dublin against new water charges
Comments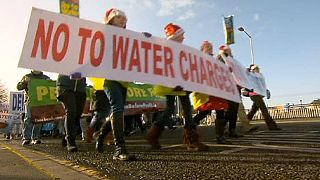 Tens of thousands of people took to the streets of Dublin on Wednesday crying foul over planned new water charges.
It was the latest in a series of protests described as the biggest protests in Ireland for years.
The demonstration was mostly peaceful but two arrests were reported and a policeman was injured.
Until now water has been funded by general taxation.
The new charges are part of government austerity measures to help Ireland repay its international bailout.
"Nothing is going to change in relation to the water charges. I need to be quite specific and clear about this. The package that has been put forward is the best package that is available. It is something that was rigorously thought out by myself and others. It is a comprehensive package," said Ireland's Environment Minister Alan Kelly.
Last month the Irish government reduced the levels it plans to charge and promised to keep water rates low.
But the issue has touched a raw nerve among austerity-weary people.
Many argue they already pay for water through tax.