Gulf states agree need for solidarity against ISIL
Comments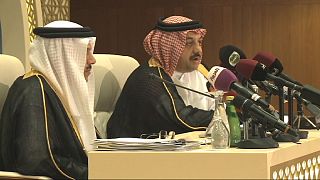 The six members of the Gulf Cooperation Council (GCC), who have been holding a summit in Doha, have agreed the need to confront militant forces such as ISIL.
It is a major attempt at solidarity following months of disputes over Qatar's support for Islamist groups such as the Muslim Brotherhood.
But political analysts such as Abdulwahhab Badrakhan wonder if the nations are really just papering over the cracks:
"Qatar will stay on the side of political Islamic movements this is part of its policy but it will make sure that this activity does not interfere in internal Gulf matters or threaten the security of the region," he said.
The six also confirmed they planned to set up a joint naval force and an interpol-like agency although they gave no details.
Reporting for euronews Maha Barada concluded:
"Challenges facing the Arab world have underlined the need of reconciliation between Gulf countries. Here there's been lots of general agreement, but perhaps not enough to completely sweep away differences on some crucial regional issues."