Ban gives stark climate change warning to UN talks in Lima
Comments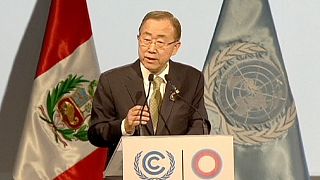 Urging a radical shift to greener economies, United Nations Secretary General Ban Ki-moon told governments at UN talks in Peru's capital Lima on Tuesday that there is no "time for tinkering".
"The window of opportunity is fast narrowing," he said to delegates from about 190 nations at the talks, working on a deal due in Paris in a year's time to limit rising world greenhouse gas emissions.
Ban welcomed pledges by developed nations totaling almost $10 billion to a new Green Climate Fund, due to help developing nations cut emissions and adapt to climate changes that will put pressure on food and water supplies.
He called on countries which have not yet pledged "to consider making an ambitious financial commitment in Lima."
Australia is the only major developed nation which has not contributed to the fund, preferring to focus on domestic initiatives.