China: Eight given death penalties over Xinjiang attacks
Comments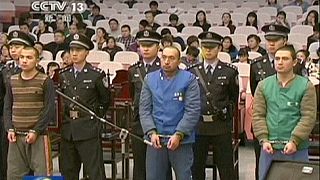 Eight people have been sentenced to death in connection with deadly attacks in China's western Xinjiang region – where violence has raged between the Muslim Uighur minority and the majority Han Chinese.
In April, a knife and bomb attack at a train station in the region's capital of Urumqi killed three and injured 79. In May, 39 people at a Urumqi market were killed when attackers hurled explosives out of the windows of two SUVs.
Five others were given a sentence of "suspended death", which in China usually means life in prison. Four people were given lesser prison sentences, the official Xinhua news agency said.
Exiled Uighur groups and human rights activists say the government's repressive policies in Xinjiang, including controls on Islam, have provoked unrest. Beijing denies that.
In such a heavily politicised environment, a fair trial was impossible, said Dilxat Raxit, spokesman for exile group the World Uyghur Congress.
"China has not looked at all for the root causes of the incident from the point of view of their own extreme policies," he said in an emailed statement.