Philippines: 600,000 flee Typhoon Hagupit
Comments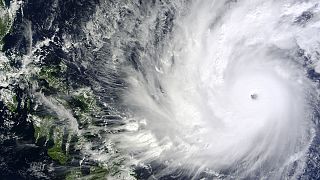 More than half a million people have fled villages in the Philippines to brace for Typhoon Hagupit.
Hagupit, Filipino for "smash", slightly weakened on Saturday but remained dangerously powerful and erratic. The powerful storm has already causing heavy damage to neighbourhoods.
Relief agency Refugees International said in a statement it is "deeply concerned" that evacuation centres may not be safe.
With memories of Typhoon Haiyan that left 7,000 people dead or missing last year, the Philippine military is on full alert.
Although Hagupit is unlikely to reach the same strength as Haiyan, forecasters warn that Hagupit is strong enough to set off deadly storm surges and landslides.