Mass evacuation in Philippines as the islands wait for Typhoon Hagupit to strike.
Comments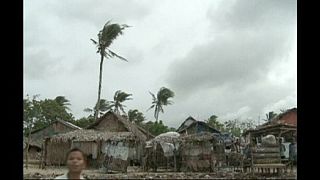 Around 500,000 people living in coastal areas of the Philippines have fled inland as the islands await the arrival of a powerful storm.
Typhoon Hagupit has lost its 'super' status, having dipped below the level five category, but weather experts still expect it to be destructive with winds up to 195km per hour.
People are taking no chances. Shops that have anything left to sell are still open as families continue to stock up, but many are closed, boarded up in precautionary fashion.
Lessons have been learned from the last super storm, Typhoon Haiyan, just over a year ago when 7000 people died.
This time charities like Save the Children are already preparing aid for if, and when its needed.
The Philippine government says over 100,000 families are already staying in specially set up centres. The impending storm has triggered one of the biggest evacuation operations ever seen in peace time.