Greece and Turkey stress importance of economic ties at annual summit
Comments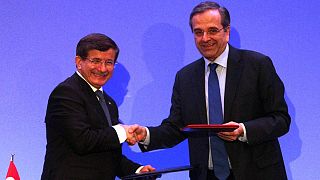 Turkey and Greece have agreed to strengthen their economic ties despite deep-rooted differences, particularly over Cyprus.
Turkish Prime Minister Ahmet Davutoglu was in Athens, as part of a two-day annual event to boost ties between the two countries.
He called for an agreement to share natural gas fields close to Cyprus.The issue caused a breakdown in peace talks between Greek and Turkish Cypriots in October after Turkey sent navy ships and a research vessel to collect data in disputed waters.
Greek Prime Minister Antonis Samaras said: "It is known that there are indeed issues over which we have serious disagreements. We fully recognise this fact, but we aim to create a relationship of mutual respect."
His Turkish counterpart agreed."Of course there can be different point of views between two neıghbouring countries. The important thing is not the different point of views but how you approach these differences," Davutoglu said.
Euronews correspondent in Athens, Giannisis Stamatis, explained: "Although both sides once again agreed to disagree on fundamental issues over Cyprus, in the end they tried to save the day by announcing a number of low key initiatives. These are intended to lower tensions in the region and enhance economic cooperation between the two countries."