Turkish PM visits Greece amid tensions over Cyprus energy rights
Comments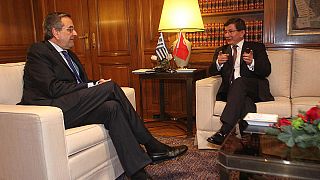 The Turkish Prime Minister has begun his two-day visit to Greece amid tensions over energy exploration rights around Cyprus.
Ahmet Davutoglu called for an agreement over exploiting hydrocarbon deposits in the eastern Mediterranean after the issue caused the breakdown of peace talks between Greek and Turkish Cypriots in October.
"Our aim is the further development of Greek-Turkish relations and in order for this goal to be achieved our governments have pledged to continue cooperation at a steady pace," commented the Greek Prime Minister Antonis Samaras.
"We do not wish any tension either in the Aegean or in the eastern Mediterranean. We can solve all our problems through dialogue. Whatever our differences or our different approaches are we should continue to talk," the Turkish prime minister added.
His remarks came during his trip to Athens as part of an annual event to boost ties between the two countries.
Resolving issues over Cyprus is seen as key to strengthening bilateral relations.
Euronews correspondent in Athens, Giannisis Stamatis, remains sceptical about the outcome saying:
"Although no spectacular diplomatic results are expected from these meetings, the two sides see them as a good opportunity to improve relations on a host of less political issues like trade, tourism, culture and sports."