Creativity and technology meet in Lyon's Fete des Lumieres.
Comments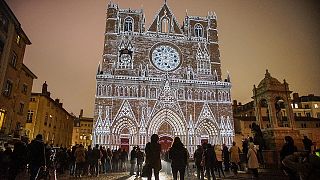 Electricity and installation art are working in perfect harmony this weekend as the French city of Lyon is illuminated in the annual Fete des Lumieres, the Festival of Lights.
It is a combination of technology and creativity that has made the event an essential event in the international panorama of urban art.
Over four nights between two to three million people's lives will be brightened up by 70 installations that create a truly magical atmosphere in the city.
"It's simply unbelievable" said one German visitor." I would never have expected that. I was invited by a friend and all I can say is it's fantastic".
It was on December the eighth 1852 that residents of Lyon first lit candles as a way of thanking the Virgin Mary for ridding the city of plague 200 years earlier.
The tradition of people lighing their homes with candles at the same time every year continued up until ten years ago when the event developed into spectacular show it is today.