Virgin Mary meets laser tech in Lyon Festival of Lights
Comments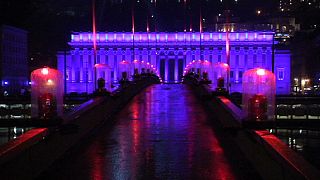 Every year, the spectacular Fete des Lumieres (Festival of Lights) takes place in the French city of Lyon.
The authorities say they get three to four million people riding the public transportation system over several days and nights.
This year the festival is from 5th-8th December, with more than 70 installations.
The focal points are the Fourviere Basilica and the Place des Terreaux.
The festival has its origins in 1643. Plague was roaming the country, and the story goes that when Lyon dedicated itself to the Virgin Mary the sickness left it.
But it was not until 1852 that the townspeople began lining their windows with candles on the night of December 8th, to say 'Merci Marie'.
In 1999 the city decided to develop the festival.
Streets are closed off, the downtown core becomes a pedestrians-only area, packed with crowds.
It can get hard to move but the foot traffic is closely managed. In some places, barriers and security wardens move festival-goers along one-way systems.
Hot mulled wine and hot chocolate with chartreuse liqueur are among the drinks sold from street stalls.
Mini-candles (what a contrast to the mechanised, computerised lasers and projections) are for sale in corner stores and supermarkets in the weeks running up to this.