Italian PM Renzi gets Senate backing to push on with controversial 'Jobs Act'
Comments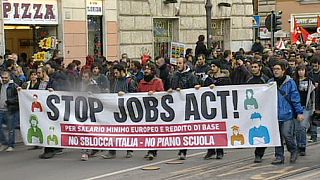 Italian Prime Minister Matteo Renzi has been given the go ahead to push on with controversial labour reforms after winning a confidence vote in the Senate.
But Renzi's so-called Jobs Act has already met with opposition.
Scuffles broke out between police and demonstrators before the vote – unions say changes making it easier to fire workers on economic grounds and reducing the number of temporary contracts will lead to jobs losses and more insecurity.
But Renzi says the changes will shake up Italy's sluggish economy, lead to more hiring of workers and attract investment..He also wants to extend jobless benefits.
Italy's unemployment rate of 13.2 percent is the highest since the country's records began.
Last week the "European Commission postponed judgement on Italy's 2015":
http://www.euronews.com/2014/11/28/european-commission-grants-rule-breakers-three-months-to-organise-finances/budget until March saying it wanted to see evidence that Rome was doing more to improve an economy that has shrunk by 9 percent since 2007.