Chechen rebels stage deadly attack on Grozny ahead of big Putin speech
Comments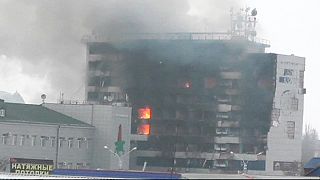 At least 19 people have been killed in fierce gun battles.
But Russian authorities say an 'anti-terrorist' operation launched
after heavily-armed rebels stormed the Chechen capital Grozny is now over.
The rebels attacked a police checkpoint before moving to a school and a building housing the media where they battled members of the security forces.
Ten officers are said to have been killed, and nearly 30 injured.
Chechnya's Kremlin-backed leader, Ramzan Kadyrov, is quoted as saying at least nine Chechen insurgents died. It is not clear how many rebels took part.
An Islamist group has claimed responsibility for the raid, saying it was revenge for the "oppression of Muslim women".
The attack, before President Vladimir Putin was due to deliver his annual state of the union address in Moscow, underlines the fragile security situation in Chechnya over a decade after he sent troops to quell separatists in the turbulent southern Russian region.