Deadly clashes in Cairo over Mubarak court verdict
Comments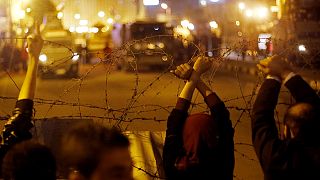 Two people have been killed and several others injured as protesters reacted furiously to a court's decision to drop charges against former President Hosni Mubarak of killing demonstrators in the 2011 uprising.
Around 3000 people clashed with security forces in Cairo's Tahrir Square, scene of the original uprising four years ago.
Tear gas and birdshot were used to disperse the protesters according to witnesses who spoke to the media.
"Everyone has forgotten their political background, whether they're leftists or Muslim Brotherhood or others", said Mohamed Medhat. "Everybody is chanting together 'down with Hosni Mubarak, down with the regime' ".
The decision on Saturday to drop the charges against Mubarak has not angered all Egyptians. Cheers erupted in court when the judge delivered the verdict.
Mubarak is serving a three year sentence on a separate charge of embezzlement, but it seems even from behind bars he still has the capacity to divide the nation..