Morocco: 32 dead following floods
Comments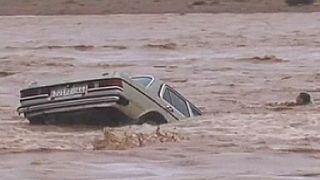 Thirty-two people are now known to have died in Morocco after floods triggered by heavy rain.
Many buses were swept away and trucks were overturned.
The resort city of Marrakech, highly popular with European tourists, was also affected. Many tour buses were briefly stranded.
Morocco's interior ministry said rescue operations had saved more than 200 people, dozens of whom were evacuated by army and royal guard helicopters.
Flooding is common in the south of Morocco at this time of year. In the past it has triggered violent protests by local people angry about what they see as an ineffective response from authorities.
Spain's government said in a statement it had sent "emergency aid" to Morocco in the wake of the flooding.