US announces deployment of extra troops to train Iraq forces
Comments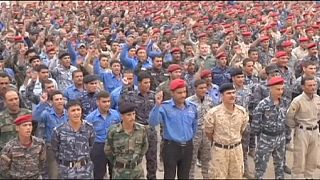 The Pentagon says the first of the 1,500 extra American troops due to advise and train Iraqi forces will be deployed in the next few weeks.
They are expected to help volunteers from Iraq's Sunni tribes who have been joining training centres at army bases.
Washington says the new US contingent will be deployed over the next few weeks, adding that it has also secured pledges from other countries.
"I think, certainly by the end of the calendar year, your going to see a much more robust presence, not just by the United States doing this but by coalition partners, as well," said Rear Admiral John Kirby, the Pentagon press secretary.
The Pentagon is still waiting for Congress to approve the additional funding needed in order to execute the expanded effort.
President Barack Obama's administration announced on November 7 plans roughly to double the number of US troops in Iraq, adding an additional 1,500 to establish sites to train nine Iraqi military brigades and three Kurdish Peshmerga brigades.
While the Iraqi army backed by Kurdish forces continue the fight on the ground, an airstrike is said to have killed an ISIL leader in Mosul, which was captured when the hardline group swept through northern Iraq earlier this year.
Residents and a local medical source say Radwan Taleb al-Hamdouni was killed with his driver when their car was hit.
US officials said they were unable to confirm the information.
The United States launched air strikes against ISIL in Iraq in August, later expanding operations to targets in Syria.