Route du Rhum: Caseneuve maintains Rhum Class lead
Comments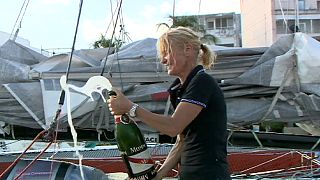 France's Anne Caseneuve produced yet another superb display to hold on to her Rhum Class lead in Guadeloupe on Thursday, her best finish after five attempts.
Our Euronews correspondent Remi Pelletier met up with the ANEO skipper who explained: ''This race has probably been one of the toughest and I'm so happy with this result. This might have been my last Route du Rhum and for this reason, I couldn't have dreamt of a better outcome.''
All competitors who arrive at Pointe-à-Pitre are escorted by a variety of boats all designed by local shipyards in Guadeloupe.
Formado manager Mathieu Forbin said: ''I am in charge of the technical fleet, press and VIP boats. Local workshops have worked hard to present 16 boats and continuously improve the teams performances. The Route du Rhum can be proud of such worthy competitors thanks to these local workshops.''
One of Pointe-a-Pitre's main project are these special pontoons which have been designed to welcome sailors on their arrival.
Head of TIG Renaud Capdevielle explained: ''We've been taking part in this competition for three years now, building pontoons which float thanks to home-made polystyrene. These pontoons are therefore 100% locally produced.''