Kenyan police find explosives and weapons in mosques
Comments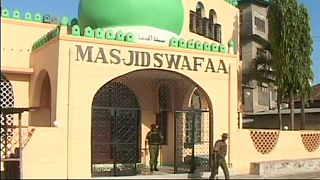 In their second anti-terrorist operation in the last few days Kenyan police and troops have swooped on several mosques in Mombasa.
Three mosques were raided, during which weapons, explosives and other items were discovered. One hundred and nine arrests were made of what the authorities are calling "terrorist cells" possibly linked with Somalia's al-Shabaab militant Islamists.
In all 376 people have been arrested since raids began on Sunday, although over 90 were released due to lack of evidence.
The Kenyan capital Nairobi and the tourist resorts along its Indian ocean coastline have been frequently attacked by al-Shabaab in the past. Kenya supports the Somali government against the extremists.