2015 Dakar rally route unveiled
Comments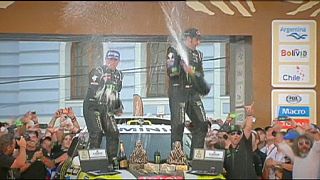 The route for the 2015 Dakar rally was unveiled on Wednesday.
The 37th edition of the gruelling race, the seventh to be held on South American soil, will bring back the loop format.
It will start in Buenos Aires at the beginning of January and end in the Argentine capital on January 17.
The official presentation took place at The Gabriel Pavilion in Paris' famous Champs-Elysees.
The Dakar's race director Étienne Lavigne said: "This year like in 2009, 2010 and 2011 it will be a course that starts and finishes in Buenos Aires. 414 vehicles will line up for the start of the race which begins on 4 January 2015."
The total race length will be just over 9,200 km, of which over half will be timed special.
Marc Coma is the defending champion in the motorcycle category while fellow Spaniard Nani Roma will look to defend his title in the car category.