Gallery: See the stunning poppy tribute to mark WW1 centenary
Comments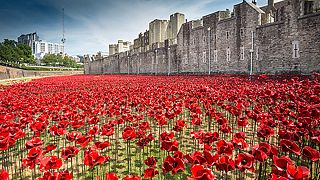 Huge crowds have flocked to London to catch a last glimpse of a stunning poppy garden that pays tribute to British casualties in World War 1.
Thousands packed streets around the Tower of London over the weekend to see the exhibition ahead of Remembrance Day.
The exhibition has seen one ceramic poppy installed in the tower's moat for each of the 888,246 British and colonial lives lost in WW1.
The first poppy was installed in August, with the final one set to be planted on November 11.
The installation, entitled Blood Swept Lands and Seas of Red, was created by ceramic artist Paul Cummins.
General the Lord Dannatt, constable of the Tower of London, said: "'For this important anniversary year, we wanted the Tower of London's commemorations to serve as a fitting tribute to those who lost their lives during the First World War, whilst encouraging others to reflect on our past.
"The First World War was a pivotal moment in our history, claiming the lives of over 16 million people across the globe; its consequences have shaped our modern society.
"We hope that people across Britain, Europe and the rest of the world will join us by being a part of this unique moment which we feel reflects the magnitude of this centenary year."
POPPYGARDEN ON SOCIALMEDIA