South Africa football captain Senzo Meyiwa shot dead in girlfriend's house
Comments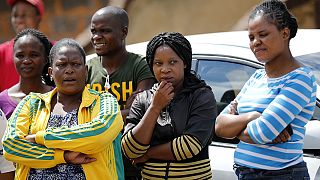 The captain and goalkeeper of the South African national football team has been shot and killed by intruders at his girlfriend's house near Johannesburg.
Senzo Meyiwa, 27, died on Sunday after being shot once through the chest. He was dead upon arrival at hospital.
The shooting happened at the home of his actress and singer girlfriend Kelly Khumalo in the Vooslorus township.
"Two guys enetered the house and demanded cellphones, money and other valuables," said provincial Community Safety officer Sizakele Nkosi-Malubane from the scene of the crime. "Senzo tried to protect Kelly because one of the men had a gun pointed towards her."
Meyiwa, who plays for the Orlando Pirates football club in South Africa, captained his country four times in recent qualifying matches for the African Nations' Cup. On the eve of his murder he helped the Pirates reach the semi-finals of the South African League Cup. Pirates chairman Irvin Khoza called his death "a sad loss whichever way you look at it – to Senzo's family, his extended family, Orlando Pirates and to the nation."
The Pirates' match against great rivals Kaiser Chiefs, scheduled for this Saturday, has been postponed by national football authorities.
Gun crime is firmly in the spotlight in South Africa; this latest high-profile case comes less than a week after Paralympic athlete Oscar Pistorius was jailed for five years for culpable homicide after shooting his girlfriend dead at her home. In his defence, he claimed he believed her to be an intruder.
Between April 2013 and March of this year, South Africa recorded no fewer than 17,000 murders, an increase of 800 compared to the previous year.
In 2012, the murder rate in South Africa was 31 per 100,000 population, the third highest in Africa and the tenth highest globally, according to figures from the United Nations Office on Drugs and Crime. By comparison, the highest rate in Europe was in Greenland (19.4 per 100,000), followed by Lithuania (6.7 per 100,000). The rate in the United States was 4.7 per 100,000.