Netflix wants to program "for the whole world and for everybody in the house"
Comments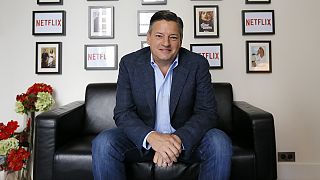 In a packed auditorium at MIPCOM 2014, Netflix's Chief Content Officer Ted Sarandos hinted in his keynote speech at both his status of guest-star of the trade show and the scope of the paradigm shift taking place in the industry.
And the on-demand Internet streaming platform is a driving force being the changes; with 50 million paid subscribers in 40 countries, standing firmly in the number 1 spot of on-demand streaming platform, Netflix now wields enough power to compete with major legacy media.
It not only buys licensing rights but has started producing original TV series, such as acclaimed "House of Cards" and "Orange is the New Black", and will soon be making movies too: the company just made a four-movie deal with US comedian Adam Sandler.
"The audience here, the people at home, they are on-demand viewers, they want content when they want it," Tarandos explained at the Cannes tradeshow. "We are becoming a destination for all contents".
The Chief Content Officer said that viewers' time streaming videos was divided 70%/30% between TV series and movies. "We program for the whole world and for everybody in the room," Sarandos said of the platform's global stategy.
Netflix has just launched in France, Germany, Austria, Switzerland, Belgium and Luxembourg and is also available in the UK, Ireland, Denmark, Finland, Norway, Sweden and the Netherlands. "Viewing habits in Europe are on par with the United States,'" Sarandos told the audience.
Watch the keynote in the player below.