Eurodata TV Worldwide: the future of TV in numbers
Comments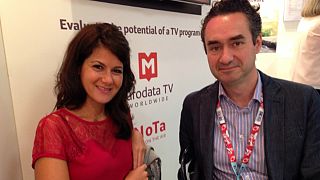 It's a rainy first day at the 2014 edition of MIPCOM but the international TV and entertainment market is a beehive of activity.
While a large crowd is still queuing at 11am at the registration desk, the morning sessions have started for those already inside. One of them on 'fresh formats' by Virginia Mouseler from The Wit presents the most and least talked about TV shows of this autumn. Shows like 'Dating Naked' – which says it all in the title – and others putting celebrities in a range of uncomfortable scenarios: from pole dancing and cooking to lifeguard training and delivering takeaways. Like it or not, they might be coming to a screen in your home.
But who are watching these shows? Which screens are they watching on and why?
Eurodata TV Worldwide has the answers. This society tracks the audience of 5,000 channels in over a hundred countries and regions.
Its director, Alexandre Callay, explains that new screens have brought an additional audience and opened new spaces both in and outside the home. In France, for instance, 15-25 year-olds have an average of six screens per household, including mobile screens within the home and mobile screens you can carry outside, on public transport or at work. A true colonisation of space and time by screens. "This allows content to flow more freely" says Callay. It can also become more fluid through conversations on social networks.
Sahar Baghery, International TV Formats and Contents Director at Eurodata TV Worldwide explains that young adults in particular are watching TV less. "It doesn't mean that they are no longer interested but they watch TV differently, using catch-up services and watching on several screens." Their time spent watching linear TV is being complemented by these new types of usage. If we add live screenings with catch-up services and video on demand, 28 days after the first screening the average time of viewing grows by 31 minutes.
Baghery warns, however, that there is a limit to catch-up TV as viewers still prefer live broadcasts and big screens. This is particularly true of major events such as the FIFA World Cup. "If given the choice, viewers will always prefer the big screen of a TV set rather than the small screen of a tablet" says Callay.
Traditional TV is being pushed by newcomers, which often have fresher ideas, but they do not necessarily compete with each other and sometimes partner up. This has been the case for the series 'The Wrong Mans' which is a collaboration between the BBC and online video service Hulu. Some others of the top companies prefer to create and screen their own content, such as 'Marseille', Netflix's first original French series. There are also series that have been abandoned by traditional channels which are sometimes bought by online companies. Baghery gave the examples of Ripper Street, which was cancelled on the BBC but eventually sold to Amazon, and Community, a series originally shown on NBC which was saved for a sixth season by Yahoo. "Traditional players therefore generate more money by selling the rights" she adds.
Testing new formats
"There is a lot of experimentation going on" Baghery says. Channels are trying to extend their shows using the conversation around it or by creating a conversation before it even starts. And channels are no longer just using social networks like Facebook or Twitter.
"There is a lot of experimentation going on"
Sahar Baghery, Eurodata TV Worldwide
The new movement is to choose specific apps used by the targeted audience, Sahar Baghery identifies. Two examples given are the UK soap opera Hollyoaks which posted clues and photos on Snapchat ahead of an episode about a murder case. The episode was watched almost four times more than usual by 16-34 year olds, mainly women, who largely use Snapchat.
TV2 in New-Zealand aimed, on the other hand, at young men using the dating application Tinder when they wanted to promote the series The Walking Dead. Ahead of the first episode, they created young women's profiles with pictures and chatted with men. Over time, the girls started writing strange things, eventually revealing themselves as 'zombies'. The series was viewed twice as much by 18-25 year-old men on TV2 than on TV3.
Channels are also creating specific shorter formats, with a shorter download times, to make them easier to consume while on the move.
Who said traditional TV is dead?
To follow our live coverage of the MIPCOM, its sessions; keynotes and alleyways, click here