Watch: Leonardo DiCaprio speech among five must-see clips on UN climate summit
Comments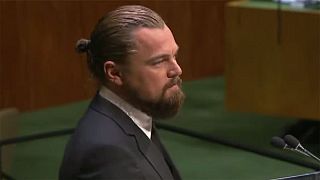 Climate change has been rammed back into the world's collective conscience this week with the UN-organised summit in New York.
The conference, designed to work towards a concrete deal at a summit in Paris next year, agreed a number of pledges.
The list of speakers at the summit was huge so we have picked five of the must-see clips from the summit, or about it.



LEONARDO

DICAPRIO

This is the generously-bearded actor Leonardo DiCaprio – official title the UN messenger of peace – making a powerful plea for action.

DiCaprio's commitment to the planet is not a flash-in-the-pan: he set up a foundation using his name in 1998 to support organisations dedicated to protecting the planet.

The 39-year-old, speaking in New York, said: "As an actor I pretend for a living. I play fictious characters, often solving fictious problems. I believe mankind has looked at climate change in that same way, as if it were fiction, as if pretending climate change was not real it would somehow make it go away. But I think we all know better than that, now."




DAVID

MITCHELL

A video by British comedian David Mitchell is the perfect antidote to the formal surroundings of the UN.

His funny take on the subject hits the spot just as well as a slick, keynote speaker in New York.

Mitchell, comparing climate change to astrology, said: "Given the choice I'd like astrology to be true because it would make deciding what to do easier and give me something to blame when things go wrong.

"Life would be a lot easier if astrology was true and climate change wasn't. But it turns out it's the other way round."




BARACK

OBAMA

Barack Obama is a must-see because of the delivery and content of his speech. But it's also down to the US being one of the world's biggest polluters and a crucial player in persuading other nations to take their fair share of climate change responsibility.

He said: "There's one issue that will define the contours of this century more dramatically than any other. That is the urgent and growing threat of a changing climate."




KATHY

JETNIL

-

KIJINER

If Obama was the biggest hitter in New York, then Kathy Jetnil-Kijiner from the Marshall Islands was perhaps one of the biggest-hitting, earning a standing applause at the end of her speech.

Poet Jetnil-Kijiner helps bring the reality of climate change to the assembly with an eloquent and inspiring delivery.




MORGAN

FREEMAN

This is another Hollywood actor getting involved – this time Morgan Freeman narrating the ever-so-slick opening film, intended as a call to action and inspiration for delegates.