Dramatic newspaper front pages on Scotland's 'day of destiny'
Comments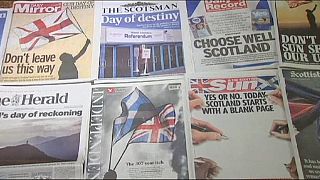 It's deadline day for people in Scotland as the nation goes to the polls to vote YES or NO to independence.
There was just one topic on the cover of UK newspapers on what The Guardian called the "day of destiny", with many removing all other news from the front page.
In both the Scottish and British media, dramatic photos, flags and poignant quotes captured the significance of the event.
Here's a look at each puplication's take on the momentous occasion.