MIPCOM 2014 - 'What do we want? Content! When do we want it? Always!'
Comments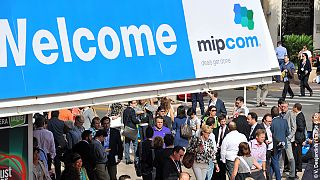 In 1984, the year of MIPCOM's first edition, my parents' television set was a cathodic tube with a convex screen, providing three different channels. It looked something like this:

That same year, due to my dad's curiosity at a second-hand market, we were among the early adopters of this novelty, a Macintosh.

Thirty years later, televisions are flat, provide hundreds of channels and content comes through flat tablets, portable computers or the latest telephones, shaping the content and entertainment industry radically differently. It has had to face challenges difficult to imagine then.
Today, as the audience is scattered across multiple screens, multiple sources, multiple apps and as the future of the sector is still uncertain because of its rapid changes, content remains a core value, if not one of the most stable ones.
Focusing, for this year's MIPCOM, on "the global quest for original content" – rather than on technical novelties – is therefore a wise choice.
The trade show is a land of plenty for buyers and sellers of content. The organisers claim it attracts 13,500 participants, 1,700 companies and more than 4,600 buyers from over 100 countries.
MIPCOM organises ways of connecting for sellers and buyers, through a traditional exhibition space, but also with screenings, matchmaking and networking events, such as the day-long film commissions programme on Tuesday, October 14. It will allow national film commissioners from around the world to talk with visitors – and hopefully potential clients.
Many companies favour MIPCOM for exclusive first screenings. This year will be no exception with the world premiere for "The Book of Negroes" by Clement Vigo and screenings for "The Librarians", "The Missing", "Rescuing Santa" and "The Witnesses".
Yet content is not a stand-alone concept. And it needs an audience. Distribution gets trickier by the day as channels to deliver content to the audience multiply. A large part of MIPCOM will therefore be dedicated to digital distribution and audiences: "It's about identifying ideal users first, and engaging them effectively" as MIPCOM says in its programme.
"Understanding millennials", "What do we want? Content! When do we want it? Always!", "The user interface challenge" or "What do platforms want" are some of the talks which will endeavour to help industry players find answers to constantly evolving issues.
Conferences are, indeed, an important and more visible part of MIPCOM. While deals can be discreetly made on stands or table corners or in the hush of a corridor, the "media masterminds" keynote speech draws the attention of all participants and anyone interested in the entertainment business.
This year's speakers include Steve Mosko, president of Sony Pictures Television, James Murdoch, from 21st Century Fox and son of Rupert Murdoch, David Stapf and Armando Nuñez, from CBS, and Jill Wilfert from the Lego group.
This 30th edition will crown Simon Cowell as personality of the year and will make Mexico its country of honour. Mexico is not, for the public, a giant on the entertainment market map but, when based on its market value, the country is ranked 13th worldwide in the entertainment and advertising industry.
MIPCOM will be held in Cannes from October 13 to October 16.
It will be preceded by MIP Junior, an international showcase for children's programming.
Euronews will be participating in and reporting from the event.