Trial of man accused of killing and cutting up victim he met on cannibalism site
Comments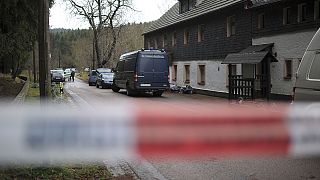 A remarkable case gets underway in Germany today – the trial of a police officer accused of murdering and cutting into pieces a man he met on a cannibalism website.
Detlef Guenzel, 56, faces charges of killing Polish-born Wojciech Stempniewicz before burying his remains in a garden.
The case against Guenzel cites "satisfaction of sexual lust" as a motive for the murder – but there is no evidence the suspect ate his victim, according to AFP
The trial, which gets underway in Dresden, will see a graphic 50-minute video showing the dismemberment.
One investigator called the images "pure horror".
Guenzel's defence attorney Endrik Willhelm says the recording proves the victim committed suicide by hanging himself.
AFP said the pathology report indicated he died from asphyxiation.
Stempniewicz and Guenzel met in an internet chatroom for cannibalism fetishists.
Stempniewicz, a business consultant from Hanover, shared extensive contact with Guenzel via e-mail and text message prior to the fatal date on November 4, 2013.