France Interior Minister criticises attacks on Jewish businesses
Comments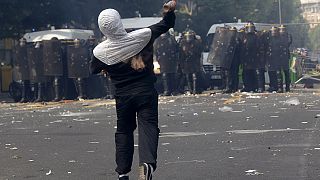 France's Foreign Minister, Bernard Cazeneuve, has hit out at the "unacceptable" anti-Semitic attacks on Jewish businesses during demonstrations in and around Paris against Israel's role in the Middle-East conflict.
A kosher grocery shop suffered fire damage while last week pro-Palestinian marchers fought with riot police outside two Paris synagogues.
#Sarcellespic.twitter.com/RvD8vvBqKW

— Dominique Albertini (@dom_albertini) July 20, 2014
"It is unacceptable to target synagogues or shops simply because they are managed by Jews," said Cazeneuve on a visit to Sarcelles, a suburb of northern Paris. Reports suggest youths in Sarcelles burnt cars during widespread looting that also hit non-Jewish targets on Sunday.
Bcp de manifestants ont quitté le cortège. Les plus violents ont obliqué dans une rue transversale. pic.twitter.com/1qAZru119P

— Dominique Albertini (@dom_albertini) July 20, 2014
Cazeneuve added: "Nothing can justify anti-Semitism. Nothing can justify that kind of violence. This will be fought and sanctioned."
During the first three months of this year, more Jews have left France for Israel than any other period since 1948 – some putting it down to the poor state of France's economy with others citing anti-Semitism as a factor.
With Reuters