Pot smokers made to wait on first day of sales in Washington state
Comments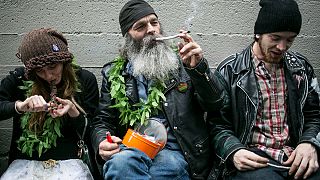 The north-western state of Washington in the United States may have legalized the sale of marijuana on Tuesday but for many of those hoping to partake, the first day of legal sales was a frustrating experience.
Just five shops selling pot opened, meaning some buyers had to travel long distances to find one open and then wait in long lines to get served.
The Seattle Times reports that several shop owners that had hoped to open could not get any supplies of the drug, as most licensed growers haven't yet harvested crops.
The state authorities themselves have done little to boost supply: while more than 2,600 people applied for a growing license for marijuana, fewer than 100 were approved.
But for those who did manage to get served, it was a long awaited moment.
The first buyer at Top Shelf Cannabis in the city of Bellingham, Cale Holdsworth from Kansas, sat outside the shop from 4 am, saying after his purchase that "This is a great moment…I'm happy to be a part of history."
But buyers can't just load up with all the pot they want. State laws remain strict on how much can be sold to individuals.
Just 28 grams of dried marijuana or seven grams of concentrated marijuana, like hashish, can be bought at a time and only to adults over 21.
And prices are relatively high, with shops selling pot at around $20 per gram, all taxes included. That's roughly twice that charged at the state's medical-marijuana dispensaries.
Washington, while it's the latest, isn't the first state to legalise the sale of pot in the United States.
Both Washington and Colorado voted in November 2012 to legalize marijuana for adults over 21, and to create state-licensed systems for growing the drug but Colorado has been faster off the mark with actual sales, allowing them from the first of January this year.
Their decision to stop prosecuting shops that sell the drug remains controversial, with little sign that legalization will become a national policy.
But many in Washington, at least, have welcomed the state's move, with one website helpfully listing the 12 most fun places to visit after you've smoked your newly purchased, and newly legal, pot.