World Cup: six of the best 'pyschic' creatures
Comments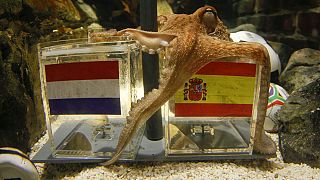 England losing on penalties, infighting in the Dutch camp and Germany reaching at least the semi-finals despite having their weakest team for a generation.
It seems it doesn't matter where the World Cup is held, at least one of these age-old cliches will happen.
Except, ever since 2010, we have a new one: stories of 'psychic' creatures predicting World Cup results.
It was all started by Paul the Octopus, who reportedly correctly predicted all seven of Germany's 2010 World Cup matches.
To honour Paul – and the quite-frankly ridiculous tradition he has given birth to – euronews has brought together some of the best World Cup psychics.