Focus on Brazil: teaching more than tackling
Comments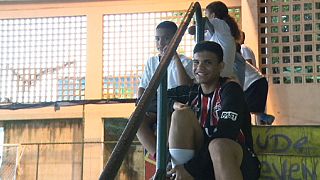 Brazil is one of the world's top 10 economies although per capita income, at around 8,000 euros, remains relatively low.
In this special edition of Learning World, presented by Maha Barada, we take a look at the overall picture of education in Brazil.
Our first story is from the slums of Sao Paolo. With social segregation in schools, low budgets for primary and secondary education and limited access to higher education, could shortcomings in educational provision hobble the country's economic boom?
The good news is that many more children, including the poor, are in education than in previous years.
In the second report we focus on higher education where significant strides have also been made in both the public and private sectors.
There has been major investment but huge imbalances persist and almost 75 percent of universities are private and beyond the reach of many poorer students.
As Brazil starts to host the World Cup, we finish the programme with a look at the role of sport in education and football in particular.
We report on an initiative uniting police and local people, which has enabled the beautiful game to displace the drugs trade as the dominant force in Rio's favelas.
We would like to hear about your experiences of education in Brazil – or any where else for that matter. Feel free to contact us via our social media pages.