The Corner: Bayern batter United Athletico stun Barcelona
Comments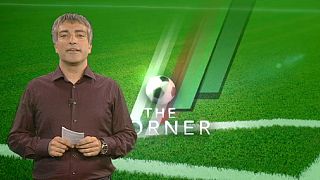 Welcome to The Corner Champions League special where euronews sports reporter Devrim Hacisalihoglu takes a look back at the quarter-finals and looks forward to the semis
"Current holders Bayern Munich go into the semis after beating Manchester United in Bavaria. Despite falling behind, briefly, Bayern then took United apart with three second half goals to heap more misery on Manchester United under David Moyes. The new United manager has had a dreadful campaign. Not so the new Bayern coach Pep Guardiola, who spoke after the match:"It's not easy to play against eight players in the box. That happened in Manchester too and we decided to try and create more passing in the middle and put it wide to Arjen Robben and Franck Ribery to cross. But they defended. Manchester defend. But at the end, you know after 1-1 in the first leg we played much better and we deserve to be in the semi-final."
Manchester United manager David Moyes gave his thoughts: "I thought that the players did a great job tonight. The only crime was conceding the goal after we had scored. Within 30 seconds. That was the biggest crime. But the players had done a great job. We had to play against the holders of the competition and for long periods we made it difficult for them but in the end, we just couldn't quite keep it."
Real Madrid are on the hunt for their 10th Champions League title and went to Borussia Dortmund three nil up and looking good.
Real had no Ronaldo who was out injured.
Borussia Dortmund are no pushovers and roared on by their passionate fans the home side gave Madrid a difficult time beating the Madridistas 2-0 on the night.
The Real Madrid coach is Carlo Ancelotti: The key was the wasted penalty from then on Borussia grew in confidence. My players looked afraid. We stopped going forward and lost control of the game."
Borussia Dortmund Jurgen Klopp: "Yes, we put some pressure on Real today so they had to rely on things they normally do not have to rely on. Well, it was all OK. But as I said, had we managed to score one goal in Madrid then we would have been on our way to the semis. And we would also want to say that the better team went through. Now we've been knocked out and the better team went on"
After first leg ended 1-1 at the Nou Camp, Diego Simeone's Athletico Madrid moved into the semi-finals with a sensational 1-0 victory at home to Barcelona.
Koke netted the solitary goal after five minutes, So this year Barcelona will be absent from the Champions League semi-finals for the first time in six years. For Athletico its their first semi in 40 years. How did he coaches view the game.
Gerardo Martino is the Barca coach: "Well… not good as one would expect after a defeat in a game from which we had high expectations. It hurts as you would expect but we will continue moving forward. The good part of all this is that with 35 to 40 days of the season to go we were still in three competitions."
Coach Diego Simione is fast becoming a hero in Madrid : "We will continue to remain humble. We recognise that after 40 years we are going to feature in an event that's very attractive. We understand that the teams there have been there more often recently than Atlético Madrid have of late, but we are confident in our work, and we have an opportunity."
Jose Mourinho had already given up on a place in the semis after Chelsea lost the first leg 3-1 against Paris Saint Germain in the French capital.
The down-talking worked and Chelsea attacked the French, scoring what proved to be the winning goal three minutes from the whistle to put Chelsea through on away goals.
Paris Saint-Germain coach Laurent Blanc: "We might have been able to score a goal on the counter-attack, and if we'd scored we'd have gone through , but ultimately Chelsea believed right through to the end, and they were rewarded, and good luck to them."
It all up for garbs now says Jose Mourinho: "Anything can happen, a big opponent is waiting for us in the semi-final, but I think it doesn't matter who, they know that we are a team with a special spirit even if we are not in the team in the maximum of out potential".
"That's it for now see you Monday for our regular look at the top football leagues across Europe, by for now."