Television and digital content professionals are getting ready: beginning next week, April 7th, they will have to work during a four-day marathon at the MIPTV in Cannes, attended by more than 11,000 people.
The event bills itself as "the world's market & creative forum for content on every screen". But while it might not be as well-known as its more illustrious counterpart for the bigger screen in May, programmes sold during these four days can be seen by thousands of viewers across the world in the following years.
MIPTV is a big marketplace for content, originally for television, and nowadays for all type of screens. Big TV networks and groups (Canal Plus, BBC, NHK…), production companies (Warner Bros, Endemol, Sony Pictures Television…) and content creators all gather to meet, pitch, sell and buy, allowing producers to preview ideas at the earliest stage or launch a programme internationally. Several exclusive screenings are programmed, including "Farmed & Dangerous" starring Ray Wise (Twin Peaks, Robocop).
This series – produced by a classic entertainment company, Piro, and a Mexican food restaurant chain, Chipotle, which has chosen to move away from traditional advertising to content producing – was originally broadcasted on Hulu, a website offering streamed content on subscription. It is representative of a certain shift that has occurred in the industry for the last decade: new business models with new producers or new ways of broadcasting, such as a digital-first release.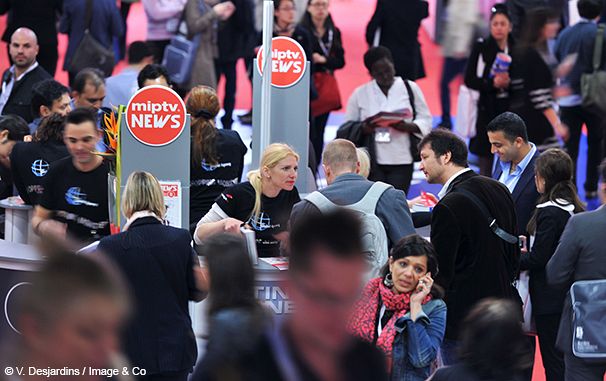 Beyond the market place, MIPTV tackles key issues through keynotes and conferences. Technology moves fast but not fast enough to have a list of completely new themes every year. Some of last year's subjects are still largely covered this year: the ultra HD (the so-called 4K), video-on-demand, the cloud, or the still unsolved but moving-fast business model equation. The second screen, where the audience chat on mobile devices while watching a TV programme, could not be hottest next Monday now that Twitter announced this Wednesday to having bought the French company Mesagraph and UK's SecondSync, which both work on analytics of audience engagement on Twitter during TV shows.
As more and more digital-only content is being produced, MIPTV takes an important stand, by dedicating two forums to the new-tech world.
MIPCube is a programme of talks, summits, competitions and events on "the ways in which technology and creativity are working together to enrich and reinvent the viewing experience".
MIP Digital Fronts will showcase original online videos of four major companies (YouTube, Maker Studios, Dailymotion and Vice) and other actors in the sector.
On a more classical note, a new programme will be dedicated to children's programmes, while a special spotlight will be shone on Israel.
2014 major keynote speeches will be given by professionals such as Alex Carloss, head of entertainment at YouTube, Maurice Levy, chairman and chief executive officer of Publicis Groupe,Deb Roy, Twitter's chief media scientist or the better-known from a non-professional audience, Kim Cattrall, from Sex and the City.
MIPTV will not host as many stars as the Cannes Film Festival, but Kim Cattrall and other famous names – 50 Cent, Omari Hardwick, Maggie Gyllenhaal, Amy Poehler or the above-mentioned Ray Wise – will drop by for Q&As or screenings.
At Cannes Film Festival, the stars are the main attraction and networking a sideshow; at MIPTV stars are a side attraction, while exclusive and discreet match-making is the core business. Some companies wait for MIPTV to make public announcements. It's only (a) fair after all.
MIPTV will be held in Cannes from April 7 to April 10.
MIPdoc and MIPformats – that showcase factual programmes and original formats through screenings- both start on April 5.