India: Four men found guilty of gang-raping photojournalist in Mumbai
Comments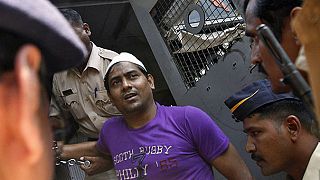 Four men have been found guilty of the gang-rape of a photojournalist in Mumbai – the latest sexual violence scandal to hit India.
The woman was attacked by five men at dusk on August 22 last year, while on assignment with a male colleague at an abandoned textile mill.
The four men convicted of gang-rape are due to be sentenced on Friday. The fifth accused, believed to be under 18 at the time of the crime, will be tried in a juvenile court.
Under the stricter laws brought in last year – after the gang-rape and murder of a woman in Delhi – the men face a life sentence.
That attack provoked nationwide protests and tougher laws, yet an ongoing stream of high-profile attacks has raised concerns that little has changed.
Meanwhile the gang-rape of the photojournalist provoked a public outcry partly because Mumbai, India's financial capital and the home of its flamboyant film industry, is considered one of the country's safest city for women.
A 51-year-old Danish tourist was also gang-raped in December in Delhi's busy backpacker district by men whom she asked for directions to her hotel. A Swiss tourist was gang-raped in the state of Madhya Pradesh last year while on a camping trip with her husband.
In 2011, a total of 24,206 rape cases were registered in India, according to data released by the National Crime Records Bureau, an average of 66-a-day.
In separate case, last December, a teenage gang-rape victim was burned to death by her attackers, said police.