India: New Delhi bus gang-rape quartet lose appeal against death penalty
Comments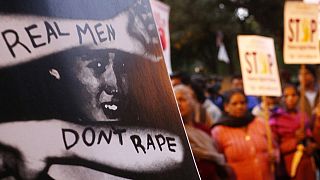 Four men convicted of gang-raping and murdering a 23-year-old woman on a bus in New Delhi in December 2012 will be executed in spite of their appeals, confirmed the Delhi High Court on Thursday.
Four of the six arrested suspects were given death penalties by a fast-track Delhi court in September 2013. The fifth accused did not live long enough to receive his penalty, as he hanged himself in March 2013. The sixth accused was a juvenile at the time of the assault and was sentenced to three years in a rehabilitation centre.
Defence lawyers of the offenders – Akshay Thakur, Vinay Sharma, Mukesh and Pawan Gupta – told Reuters they would appeal to the Supreme Court.
Jyoti Singh, reportedly a physiotherapy student, was heading home on a private bus with a male friend on the night of December 16, 2012. Once the bus started moving, the five passengers onboard began taunting the couple for going out together at night and began assaulting the female victim. Her male companion was beaten with an iron rod, gagged, and knocked down when he tried to intervene. The female victim was dragged to the rear of the bus, assaulted, raped and violated with the same metal bar, according to medical reports. The sexual assault reportedly 'lasted for hours'.
The couple were dumped from the moving bus half-clothed and unconscious. They were discovered by a passer-by later that evening. Both victims were in a critical condition and taken to hospital.
The young woman died of 'serious intestinal injuries' two weeks later at Singapore's Mount Elizabeth Hospital, where she had been receiving specialist treatment.
The appalling gang-rape galvanized public anger in India, a country where violence against women is a major issue. Women and men, from all walks of life, took to the streets to protest against sexual attacks on women and the government's apparent inability to curtail them.
In 2011, a total of 24,206 rape cases were registered in India, according to data released by the National Crime Records Bureau, an average of 66-a-day.
In separate case, last December, a teenage gang-rape victim was burned to death by her attackers, said police.